If you want to merely adjust a few more settings than those available through the browser's "Options" menu, type in about:config.

If you are looking for a quite comprehensive collection of additional settings and customizations for your browser's tabs, take a look at Tab Mix Plus. One nice thing about TMP is that you can "lock" the tabs of certain sites, so that you will always have them available, since links that you are clicking on will then automatically be opened in a new tab, rather than the one you are currently viewing. This might be quite helpful in cases where you want to quasi-permanently retain your tabs located and open at new sites, such as Google News or dictionary sites, such as LEO. Assuming you have enough screen real estate available even when keeping tabs on dozens of sites open, it is also quite helpful that TMP can be configured to display multiple rows of tabs, rather than forcing the user to scroll left and right with the arrows on each side of the browser windows in the default Firefox configuration.


Another interesting gimmick might be Tab Preview, which provides you with a preview of any given tab you keep your cursor hovering over.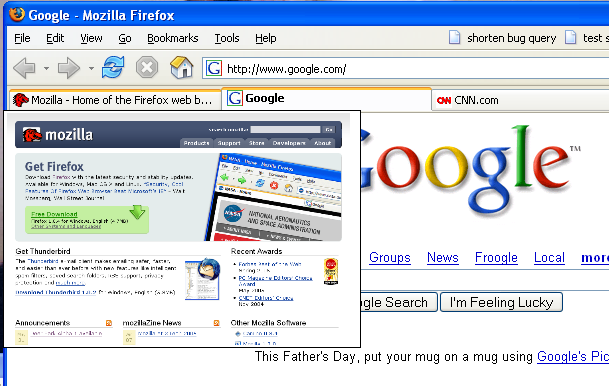 If you would like to see what any given page looks like in Internet Explorer, you might be interested in IE Tab, which allows you to look at web pages using the Internet Explorer Rendering Engine from within Firefox.

Disclaimer: The above products were featured in an article by Jo Bager on page 196 of the c't magazine 03/2007, published by Heise.